About us
The VGH International GmbH founded in 1971 is an Association of specialist wholesalers who are represented at a total of over 690 locations in Germany, Belgium, the Netherlands, Denmark, Poland, Romania, Spain, Austria, Slovakia, Portugal, France, Latvia, Lithuania, Switzerland, Czech Republic and from 2020 also in Luxemburg and Hungary.
The main focus of the Association's activities lies in the fields of heating and sanitary installations, but the member companies of the VGH have extensive know-how and high advisory competence also in the ventilation and air conditioning product group.
One of the most important objectives of the VGH and the VGH members is the sale of branded products from leading manufactures to the trade and the further processing industry.
Joint purchasing and sales as part of a coordinated supplier and product range policy and joint marketing measures ensure the VGH and its members a high quality standard that thanks to the proximity of the VGH member companies to the customer forms the basis for a successful partnership between VGH and the specialist wholesalers / trade.
The regular information exchange among the VGH members in the areas of logistics, marketing, ecommerce, product management, IT, etc. is of particular benefit.
Security thanks to the strategic partnership with E/D/E
Cooperation unites and generates strength
At the beginning of 2005, the VGH concluded a strategic partnership with one of Europe's strongest and most important marketing associations, the E/D/E - Einkaufsbüro Deutscher Eisenhändler [Purchasing Office of German Iron Traders] in Wuppertal. This has given the VGH and the VGH members access to a broad spectrum of additional financial and marketing services.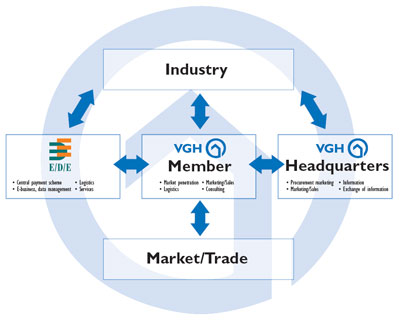 For further information please refer to our partner brochure that can be downloaded as a PDF document:
Lead through solidarity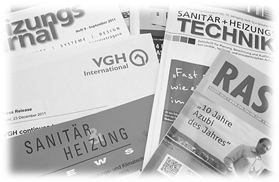 Press releases
19-10-2016 Carl Spaeter AG (CH) -
New Shareholder from 01-01-2017
more
---
10-11-2015 Mart Kft. (HU) and
UAB Sanistal (LT) - Further expansion more
---
19-11-2014

Sanistal SIA (LV) -
New Shareholder VGH from


01-01-2015
---
04-11-2014 VGH gets further
Shareholder from Austria more
---
14-02-2014 Annual conference E/D/E 2014 - Building technology with significant increase in turnover more
---
12-11-2013 VGH International gets new partner from France more
---
25-06-2013 Beatrix Pollak elected as new Deputy Chairman of the Advisory Board more
---
11-12-2012

Sven Machielsen elected as new Chairman of the Advisory Board

more
---
07-12-2012 New Shareholders' VGH International GmbH from


1 January 2013

more
---
Press articles
November 2014 SHK Tacheles
Continued growth at
VGH International more
---
January 2013 RAS
Elected as new Chairman
of the Advisory Board more
---
December 2012 S&H NEWS
VGH grows to 13 members more
---
January 2012 SBZ-Online
SHT becomes Shareholder more
---
May 2010 RAS
European presence expanded more